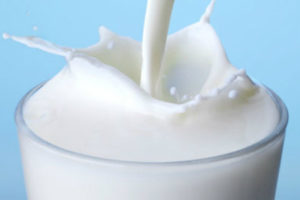 Have you ever been in the dairy section and wondered how all of the cow's milk got onto the shelf? How about where store brand milk is produced? Does milk actually contain antibiotics? I was able to receive the answers to those questions and many more by getting an inside look at MILKCO, a local dairy processing facility in Asheville, NC.
MILKCO Inc., a milk processing and packaging plant, is owned by Ingles Markets. Previously, Sealtest owned the facility before Robert P. Ingle, the founder of Ingles Markets, purchased the plant in 1982. MILKCO is the only dairy plant in Western North Carolina. It operates 365 days a year and distributes over a million gallons of milk every week. They package fluid milk, fruit juice, ice cream mix, water, and more. MILKCO supplies Ingles Market and private label milk for food distributors and other retailers across the Southeast.
You won't find any dairy cows at the MILKCO plant but you don't have to look too far. Ingles Markets values the importance of sourcing local raw milk to support local dairy farmers and the region. More than 80% of the raw milk comes from within a 150-mile radius. In order to supply milk to MILKCO, farmers must sign an affidavit vouching that they will not provide artificial hormones to their cows. Due to a lack of organic dairy farmers in Western North Carolina, organic raw milk comes from farmers in other areas of North Carolina as well as Indiana and Ohio dairy farms.
MILKCO is a Safe Quality Food Level 3 certified facility. This certification is basically a step-up from hazard analysis and critical control points (HACCP). It ensures that MILKCO establishes rigorous food safety systems all of the way from the processing facility to farmers. State of the art computer processing control systems verify the extensive sanitation measures taken to ensure safe, high-quality products. For example, the system shows when the silos (a tower used to store milk) or processing equipment is being cleaned. The next load of milk cannot flow through MILKCO's facility until all equipment has been cleaned and sanitized.
MILKCO ensures that every gallon, half-gallon, pint, and half-pint of milk is high in quality, fresh, full of flavor, and antibiotic-free. Guess how long it takes MILKCO to process raw milk as soon as it comes off of the milk tanker? Only 24-36 hours! Let's dive into what happens to raw milk when it arrives:
As soon as a tanker of milk pulls up to the unloading dock, a sample of the raw milk is assessed and tested for antibiotics. Raw milk has not been pasteurized and should be avoided due to potential disease-causing bacteria that can result in severe health risks, including death. After the sample passes inspection, it is taken to a lab and tested by a machine that detects if there is any level of antibiotic residues. If it has a negative result, the milk is able to enter the processing facility. If it shows a positive result, the entire tanker must be discarded. Farmers must give small samples of each of their milk upon pick-up. These samples are used to determine the origin of the antibiotic-containing milk. The farmer will be fined for the mistake. Milk is one of the most regulated products in the United States
Now, it is time for homogenization and pasteurization. Before raw milk is homogenized, the fats rise to the top and form a layer of cream. The milk will go through a separator to remove the cream from the liquid and use it to create whole milk, 2%, 1%, and skim milk. The milk is now ready to undergo homogenization to disperse fat throughout the milk to create a smooth product. The process uses pressure to break up fat molecules and make them all the same size resulting in a homogenous consistency. Now, the milk is ready to be pasteurized. MILKCO milk undergoes HTST (high temperature, short time) pasteurization. It is heated to 174 degrees F for 21 seconds to kill pathogenic bacteria. Pasteurization will result in a slight loss of vitamins but not enough to affect the nutritional value. Vitamin A is added back to all of the low-fat milk. Vitamin D is added to all of the milk in liquid form because it does not occur naturally in milk. Now, you can enjoy your gallon of milk for 19 days and your half-pint of milk for 20 days.
 MILKCO has its own dairy lab to ensure that the milk purchased by customers exceeds quality and production standards. A sample of milk that is store ready is kept from each tanker for 23 days in a dark room at 43 degrees F. It is kept in a dark room to mimic a customer's refrigerator and kept above 43 degrees F to account for potential mishandling of milk i.e. forgetting to refrigerate milk after getting home from the store. It is also used to compare to customer's potential complaints. By swabbing samples of milk onto Petri dishes, laboratory technicians are able to determine if milk is free from harmful bacteria before distributing to stores.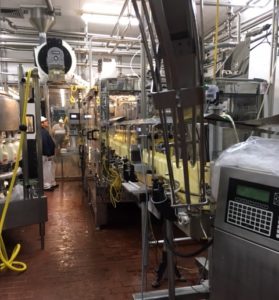 Filling up half-gallons of milk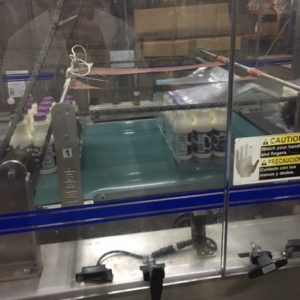 Packing up single-serve bottles of reduced-fat milk – it is time to go to Ingles Markets.
It was amazing to see the many procedures involved in turning raw milk into safe milk ready for purchase on the shelf. MILKCO goes to extensive lengths to ensure customers high-quality products. Thank you to the president of MILKCO, Keith Collins, for providing the tour through MILKCO's impressive facility.